For your favorite cocktail lover.
They can make their own, custom bottle of alcohol.
From choosing the base spirit, to playing with infusion time and signing their masterpiece; each Bootleg Botanicals gift set is a Prohibition experience.
It's Easy & Fun!
Our perfectly portioned herbal alcohol infusion spices take the guesswork out of making alcohol at home. Just add the vial of ingredients to 2 cups of an unflavored alcohol and let the magic happen. We grind all of our labtested herbs and spices from whole in small batches to infuse alcohol in hours instead of days.
Enjoyment after the Gift is Unwrapped.
Each alcohol infusion flavor crafts a bottle of alcohol to be enjoyed in cocktails or sipped over ice or severed neat.
A Great Gift For...
Birthdays, Graduations, Holidays, Housewarming or just because.
FREE FedEx or USPS Priority Shipping within the continental United States.
100% organic herbs & spices, flavor a bottle of unflavored alcohol into homemade: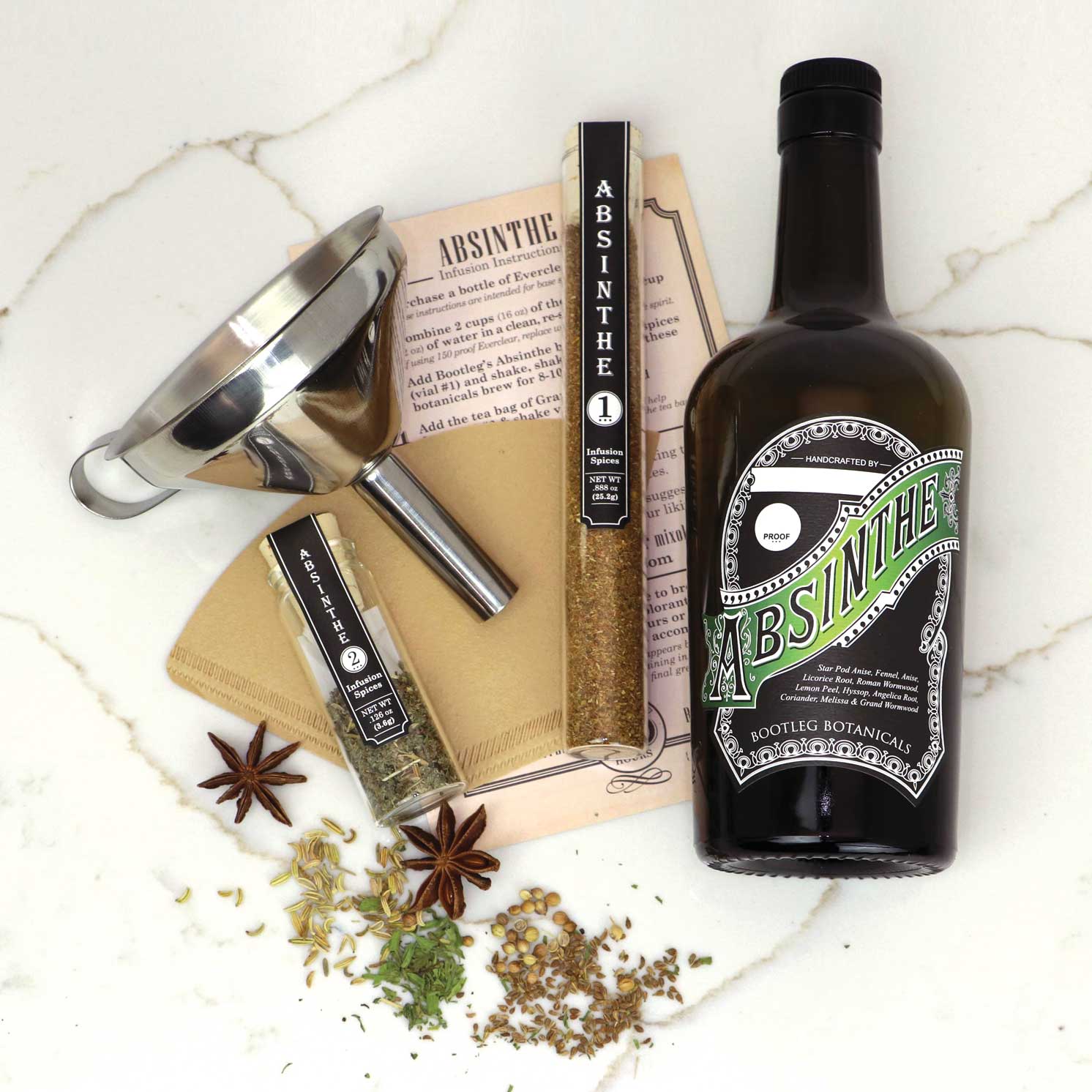 Enjoyed by artists like Van Gogh, Absinthe was banned for 100 years but made its way back to the drinking scene in the early 2000's. Crafted from eleven herbs and spices; Bootleg Botanicals Absinthe alcohol infusion is free of sugar and contains two type of Wormwood to craft an authentic bottle of Green Fairy. This is one of our most popular blends.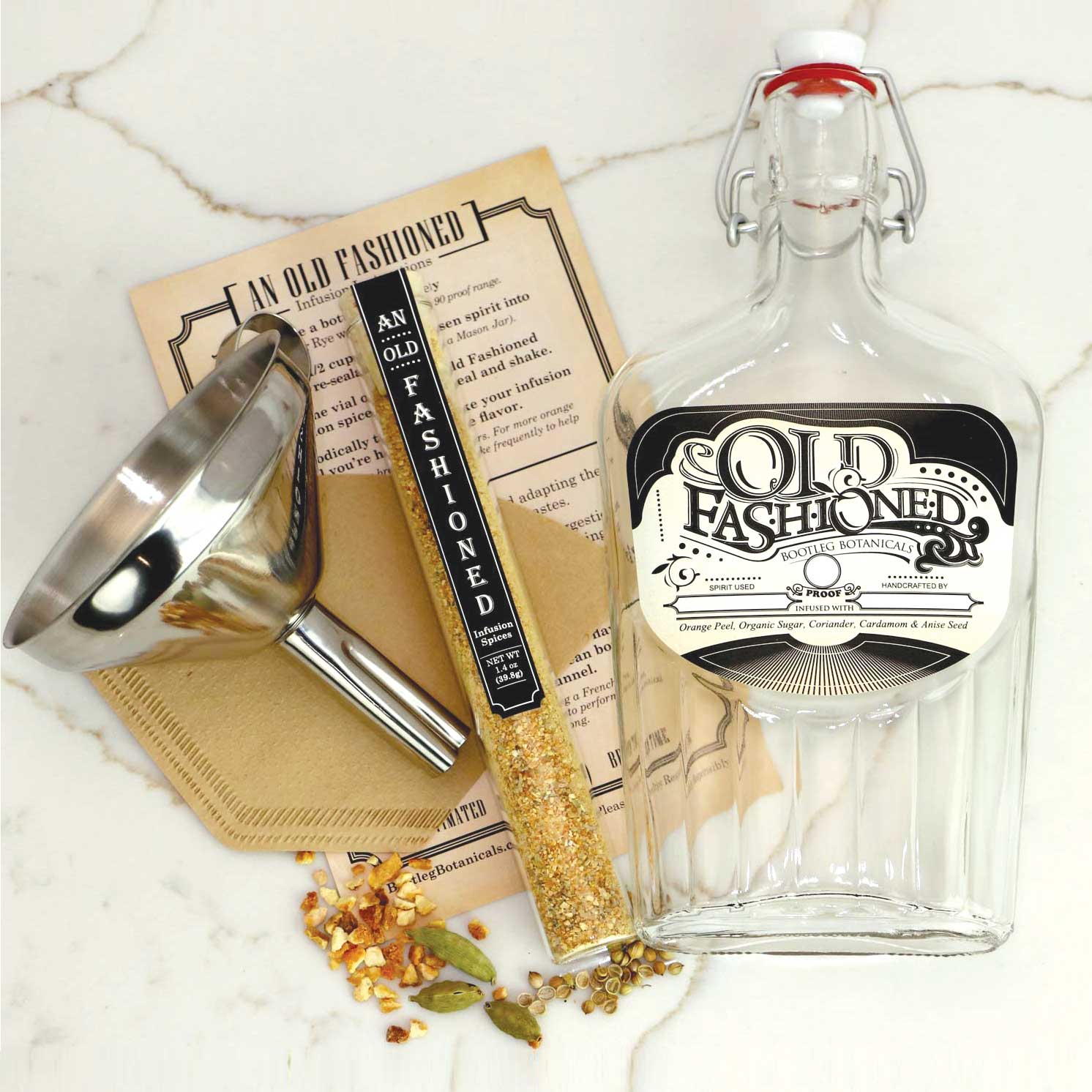 A true classic, the Old Fashioned Cocktail infusion infuses an ordinary bottle of Brandy, Bourbon or Rye Whiskey into a ready-to-enjoy cocktail in a few short hours. This traditional recipe flavors the spirit with help from organic sweet orange peel, coriander, cardamom, anise seed and a touch of sugar. Our #1 seller.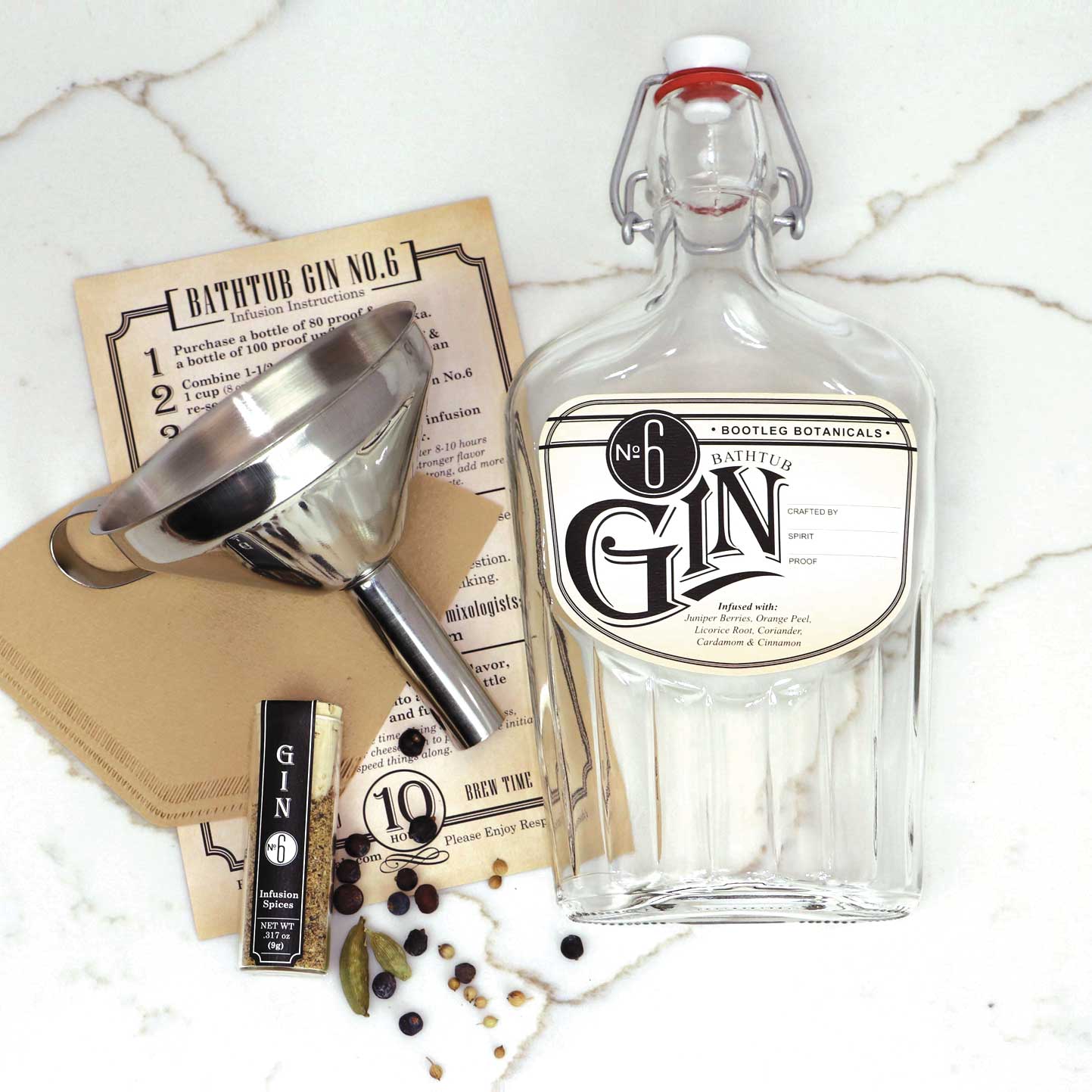 A delicious botanical Gin that is slightly sweet and herbal; this one is our house favorite as it pairs perfectly with tonic water, in classic Gin cocktail recipes or sipped neat. The Gin infusion spices infuse twice the amount of liquor yeilding more cocktail options.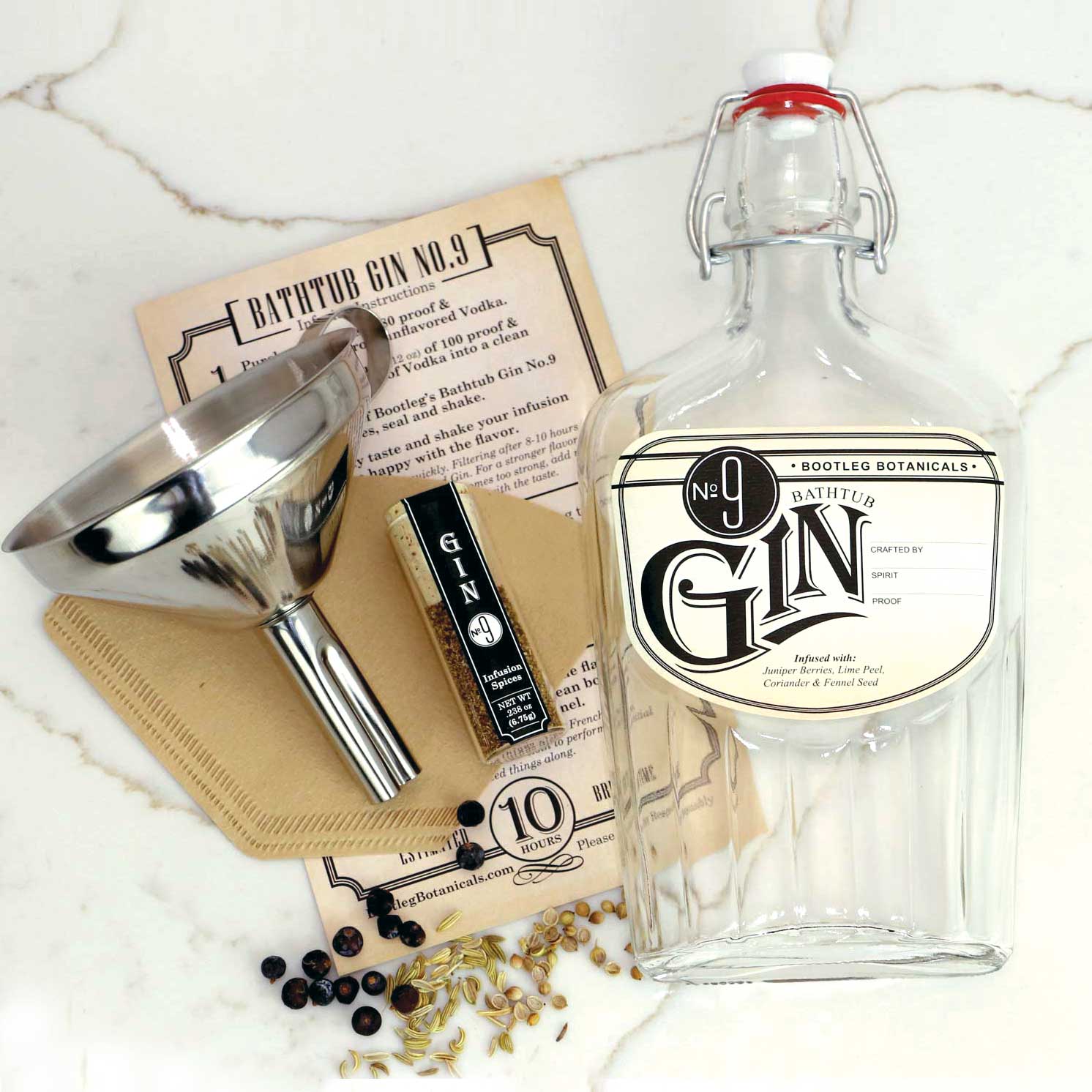 A traditional London Dry Gin for those who like to stick to the classics. Our citrus Gin infusion spice blend showcases organic Juniper Berries, Fennel Seed, Lime Peel & Coriander. Like the botanical blend, this flavor yeilds twice the volume of finished flavored alcohol.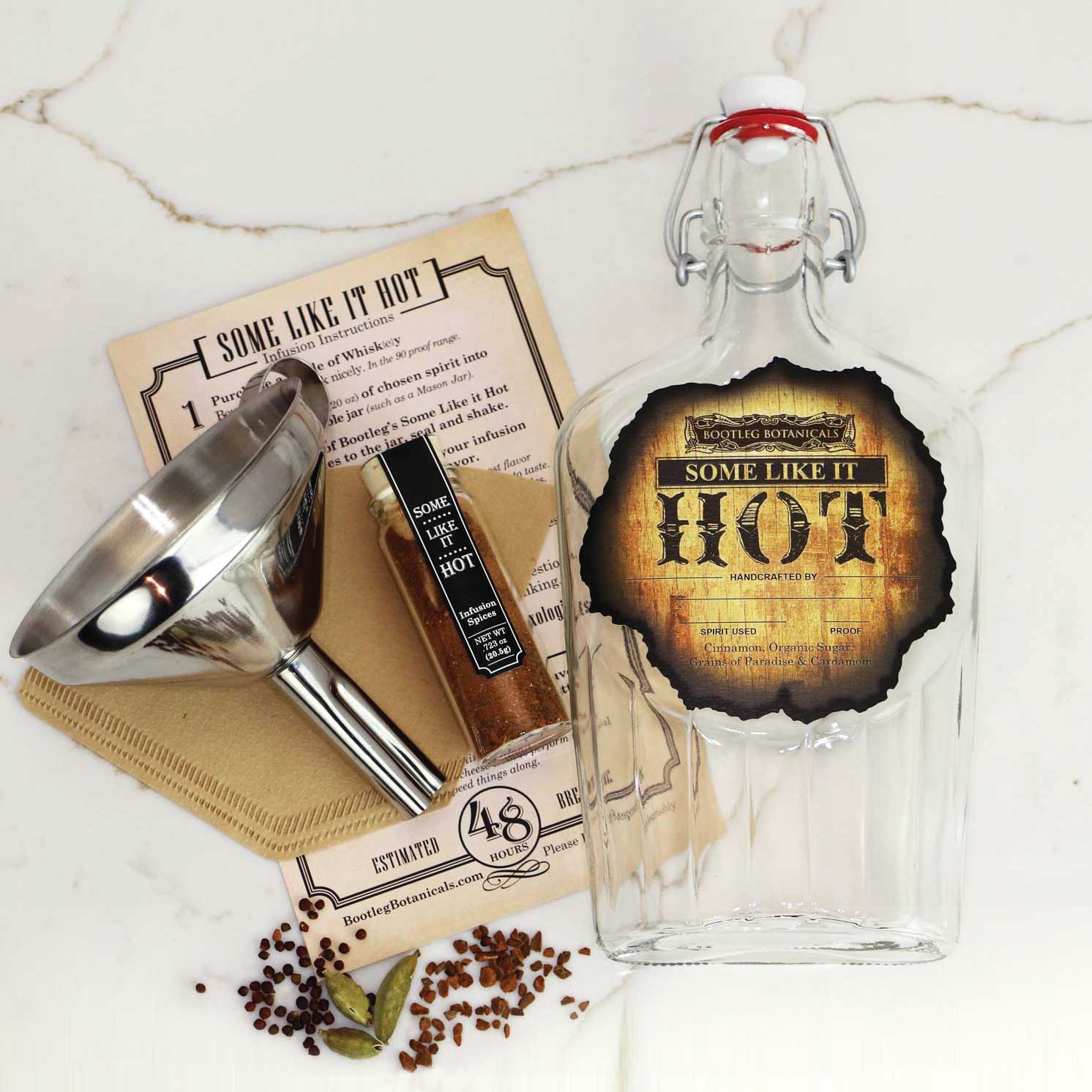 Cinnamon
Whiskey or Tequila
The Some Like it Hot Cinnamon infusion spices are perfect for flavoring blanco Tequilla or Canadian Whiskey. Unlike mass marketed Cinnamon spirits, this one is less sugar and more spice. Great for the Holidays!
Each Alcohol Infusion Gift Set Comes With:
FREE FedEx or USPS Priority Shipping within the continental United States.
1. Pick the flavor of the kit you would like to give.
2. Enter your personal gift message & event date.
3. Tell us who you would like to send a gift to.
We will take care of the rest!
FREE FedEx or USPS Priority Shipping within the continental United States.
Ships in 1 -3 Business days from Arizona.